Cappuccino cake – one of Attila's favourite cake. It is light and creamy with chocolate sponge. It is easy to do, but you need time and a bit of patience to dissolve and cool down gelatin.
Use 20 cm round cake tray
Ingredients for the sponge:
2 eggs
Half a glass sugar
2 tablespoons potato flour
2 tablespoons flour
1 tablespoon cocoa
A flat teaspoon of baking powder
1 tablespoon amaretto

Method:
Beat eggs with sugar until nice and fluffy. Add mixed flours, cocoa and baking powder – mix thoroughly. Add alcohol. Put baking paper on the bottom of the cake tray, pour the sponge cake, bake for 20 minutes at 180 C. After baking leave for 5-10 minutes, then slowly rip off the baking paper, cool the sponge cake completely.
Ingredients for the cream:
Dark chocolate grated (to be sprinkled on top)
2-3 tsp Gelatin powder
1 Dr. Oetker Bita Śmietana – whipped cream in powder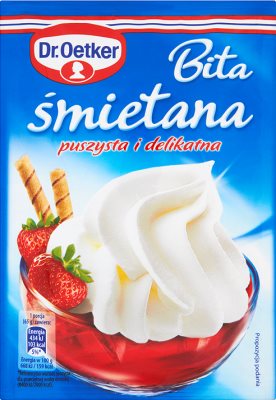 200ml milk
250ml cream 30% or 300 ml double cream
Dr. Oetker Śmietan-fix

2 -3 tablespoons Cappuccino powder
Method:
Dissolve 2-3 flat teaspoons of gelatin in a boiled water (less than half a glass). Leave it to cool down – stirring from time to time.
Whisk Bita Śmietana with milk. Whisk double cream and add Śmietan-fix (you can also add a teaspoon of sugar). Mix together whipped cream and Bita Śmietana. Pour cream in two bowls equally. Add to one bowl only cappuccino powder and mix thoroughly. At the end add the same amount of dissolved and cooled gelatin to both bowls – mix thoroughly. Then pour  cream with cappuccino powder onto the sponge cake and then pour the white cream – so you create layers – dark sponge cake, cappuccino cream and white cream. Sprinkle grated dark chocolate on the top. Put to the fridge for a few hours, and preferably for the whole night.
Enjoy!